First. Make sure the status column shows.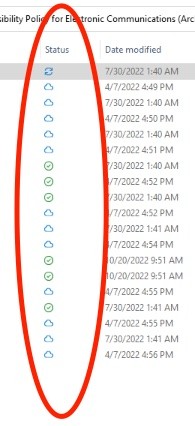 If it does not, restart OneDrive by quitting it or re-opening or your computer.
If the column does show. Wait some time for OD to sync up a little more and try again. If not, reboot your computer and wait for sync to catch up.
If you don't want to wait, you can visit onedrive.com and work on the file changes you need there, then they should sync down locally in a couple hours depending on your internet speeds.
You can also right click a file or folder, hover over OneDrive and click view online to go right to it – If this doesn't work, wait and try later or reboot and try again. OD issues like this tend to resolve after time if it's open.
Remember to check the sync status by clicking the OD icon in the taskbar to see if there's an alert that needs your attention.